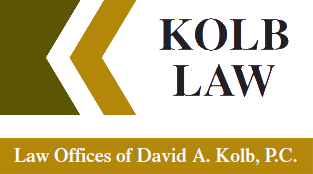 Welcome to the Law Offices of David A. Kolb, P.C.
At the Law Offices of David A. Kolb, P.C. we realize that no attorney can competently handle matters in every area of legal practice. While this is a General Practice firm that deals with a wide range of legal matters, our practice is concentrated in four major practice areas: Divorce and Family Law, all types of Injuries, Residential Real Estate and Homeowner Associations.
We realize that it can be a bewildering and an overwhelming experience for an individual who does not already have connections in the legal system to find an appropriate attorney to handle a particular legal matter. If you need legal help in an area we do not handle, rest assured we can assist you by referring you to another attorney who concentrates their practice in your area of need.
Consideration of divorce, child custody, maintenance or alimony or any other of the many issues generally categorized as Family Law is a very serious matter. You will have many issues, concerns and questions that you may never have confronted before. The situation can get very ugly, very fast, sometimes even necessitating Orders Of Protection. Divorce is difficult, filled with unknowns, fears and anxieties. The decisions you make at this emotionally stressful time will affect you and your children for years to come. This is why it is so important that you retain an attorney who is not only experienced in the fields of divorce, parenting and child custody, but also an experienced litigator, comfortable in front of a judge, a mediator or an arbitrator.
Your divorce does not have to be a war. Couples who sit down together and talk out the issues with an attorney usually find that they are in agreement on many of the points and issues that matter. A collaborative or and agreed divorce can be best for most couples who are contemplating divorce. We can educate you about the advantages of finding a resolution to your divorce issues through collaboration or agreement.
At the Law Offices of David A. Kolb, P.C. we strive to help you find a resolution to the many issues that may arise in a divorce, visitation or child custody situation with respect and consideration for all parties involved. Peaceful resolutions are always the best for all parties. But if amicable resolution is not feasible, and a contested divorce is inevitable, then aggressive advocacy before a judge is required. There is nothing more powerful to help your case than an experienced litigator who is comfortable in front of a judge. Talk to a lawyer. Schedule a free initial in-office consultation to discuss your divorce, visitation, custody, spousal support or other family issues and the options available to you. We specialize in solving problems!
One of the most stressful events that can occur in your life is to be injured as a result of the acts or omissions of another person or a business. Severe injury or even death of a loved one can be both financially and emotionally catastrophic for any family. The big insurance companies pay their attorneys very well to limit your recovery for the pain and injuries caused by their policy holders. For all types of injury cases, you should have a good attorney on your side as well.
We assist clients who have sustained injuries as a result of the negligence of others. Whether the injury is relatively minimal, or one which caused severe pain, permanent injuries or death, our goal is to help you to understand you rights and to protect your interests. Experienced in the handling of complex injury cases, we can find the best approach for your specific needs. Not all disputes require the filing of a law suit. Mediation, arbitration and alternate dispute resolution are methods available that we may use to resolve your injury case. We will work with you to develop the best solution for the resolution your issues.
With more than two decades of experience in resolving automobile, product liability, and nursing home injury cases, we will provide you with a reputable attorney, who will diligently work to maximize your recovery, expedite the resolution of your case and keep you advised all along the way as developments occur. Talk to an attorney. Schedule a free initial in-office consultation to discuss your injury or negligence case and the options available to you. We specialize in solving problems!
The time to hire a real estate attorney is not the day before the closing. If you are selling your home, purchasing a home or investing in a second home or commercial property, one of the most important tasks to attend to as soon as possible is the hiring of an experienced Real Estate Attorney. Before you sign any documents, consult with our office.
A real estate transaction is probably the single largest financial transaction most people will be involved with over the course of their lives. The issues are complex and a mistake can cost tens if not hundreds of thousands of dollars. Don't be bound to a contract you signed without first consulting your lawyer. You must exercise the Attorney Approval Clause. There may be no way to modify unfavorable terms after the contract has been signed.
Your real estate agent does not represent you. Neither does the mortgage broker or the title company agent. None of these necessary individuals are working for you or looking out for your best interests. An experienced real estate attorney will prepare and review all documents ensuring your best interests are protected. Speak with a lawyer. Schedule a free initial in-office consultation to discuss your real estate transaction and the options available to you. We specialize in solving problems!
As the Board of Directors of a condominium, townhome, duplex or single-family homeowner's association, you have the right to select the legal counsel for your association. This right should not be abrogated to a management company, or taken for granted. Over 40% of the communities constructed in Will County and the surrounding counties during the recent building boom are controlled by a homeowner's association. As a home owner member of the Association, or a member of the Board of Directors, you should make certain that you are familiar with your rights and responsibilities.
As General Counsel, experienced with Associations representing thousands of home owners located in Will, Kendall, Kane, LaSalle, Grundy and Cook, McHenry, counties, we provide a diverse and wide range of services offered by few other law firms in the Chicago metropolitan area. We focus not only on the collection of delinquent assessments, but also Rule Interpretation and Enforcement, CC & R's, Manager and Developer issues, Organizational issues, Architectural Review, Reserve Studies, McHenry, Kendall, Contract Preparation and negotiations with vendors and a host of other issues of primary importance to our Association clients.
Our mission as General Counsel is to be a full-service firm providing for the Associations' entire professional legal service needs. We seek to maximize results, minimize costs and advise our Association clients so as to resolve issues before they become bigger problems. We welcome the opportunity to meet with the Board of Directors of your association to discuss how we can identify and resolve your issues before they become problems.